The Independent Broadcasting Authority (IBA) was established through an Act of Parliament No. 17 of 2002, which was amended through the IBA (Amendment) Act No. 26 of 2010 and IBA Act No. 18 of† 2017. The IBA became operational in July 2013.
The IBA is responsible for regulating the broadcasting industry in Zambia, by ensuring the promotion of a pluralistic and diverse broadcasting industry. The functions of the IBA include among others, to grant, renew, suspend and cancel radio and television broadcast licences.
The IBA is also mandated to set standards to be followed by radio and television stations as well as monitor licensees to ensure that they are compliant. In order to achieve this, the IBA has set up an Inspectorate as well as a Consumer Affairs unit that will receive all complaints that the public may have, concerning radio and television stations or content that the stations churn out.
The Authority is overseen by a Board consisting of nine none executive members and all decisions of the Board are executed by the Director General. The Director General is supported by an executive team with expertise in law and enforcement, economics, technical and engineering, information technology journalism and finance.
There are 159†radio†Stations, 48†television stations and 6 Subscriber Management Service Providers†currently licensed in Zambia.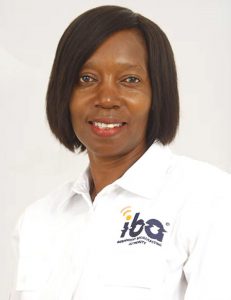 Meet the Director General
Josephine Mapoma is a seasoned journalist, media trainer and administrator, who has served in many portfolios in Zambia.
Ms Mapoma holds a Bachelor of Mass Communications Degree from University of Siliman in the Philippines and a Masters Degree in Mass Communications from the University of Wisconsin, Madison, United States of America.
She started her career as a reporter for the Mining Mirror on the Copperbelt and upon her acquisition of a Masters Degree, became a lecturer in Mass Communication at the University of Zambia, where she taught until she was appointed Permanent Secretary in the Ministry of Information and Broadcasting Services.
It was under her reign as PS of the Ministry that there was liberalisation of the airwaves and Zambia saw the birth of many commercial and community radio stations. She was also instrumental in developing the concept and later legislation that ultimately resulted into the IBA Act of 2002.
She went back to the University of Zambia, Department of Media and Mass Communication Studies in 2006 where she served as lecturer until she was appointed as the first Director General of the Authority in 2013.
To provide for the control and regulation of broadcasting services and to provide for matters connected with or incidental to the foregoing.


The Independent Broadcasting Authority shall promote a pluralistic broadcasting industry in Zambia through fair, transparent and effective regulation.


To be an effective and efficient regulator that ensures a pluralistic, diverse and ethical broadcasting industry in Zambia.

To have an effective and efficient regulatory framework.

Radio and Television Stations Statistics
6
Subscription Management Service Providers